After Model N (NYSE:MODN) joined the top three growth stocks with a strong buy quant rating, shares traded at around $41. Two things sent MODN stock sharply lower. The stock fell after an accelerated Nasdaq (QQQ) selling in only a few trading sessions. In addition, Model N's first quarter 2023 revenue beat and guidance failed to impress markets.
MODN stock's quant scores are mostly unchanged. Only its profitability score fell from a B- three months ago to a C+ now.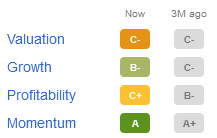 Momentum, which is a quantitative measure of the stock's technical direction, weakened after the drop. Now that Model N is trading at lower levels, should investors buy into its leadership in cloud-based revenue management solutions for life sciences and high-tech?
About Model N
Model N managed $500 billion annually. Customers get 99.95% (practically 100%) availability on its integrated cloud solutions. The 'N' in the corporate name refers to "model next," as in "the next big thing."

The stock is not trading like the next big thing. The stock risks trading below prices not seen since Oct. 2022. Tech investors and speculators are enamored with ChatGPT instead. During January's stock rally, any mention of artificial intelligence would send a company's share price higher.
Model N is a steady revenue generator. 75% of its total revenue is from subscriptions. It accounted for $44.2 million out of the $59.2 million reported. In Q1/2023, the company posted revenue growing by 14.8% Y/Y, beating estimates. For Q2, the revenue of $59 million – $60 million exceeds the consensus revenue estimate.
The company posted an earnings per share profit on a non-GAAP basis. Readers should always look at the reconciliation of GAAP to non-GAAP operating results. The firm lost $4.05 million. After subtracting the $10.4 million in stock-based compensation expense, the adjusted EBITDA is $9.1 million.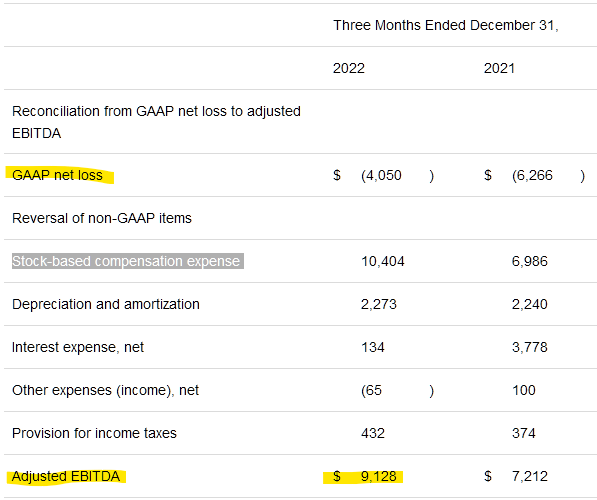 Risks rise for technology investors buying companies that report GAAP losses due to stock-based compensation. Coinbase (COIN) and Palantir (PLTR) are two widely-followed companies that reward executives with SBC.
Opportunity
Model N transitioned over 70% of its customers to a subscription-based service. Those who are at the end-of-life date will stop getting regulatory support for its products. Chances are high that 25% to 30% or more will renew a subscription, according to Chief Executive Officer Jason Blessing.
The company has customers that are highly regulated. Pharmaceutical companies cannot afford to let their product fall out of the core regulatory and compliance platforms. Investors should expect them to transition to SaaS. In the guidance below for 2023, expect Model N to post up to $181 million of revenue from subscriptions.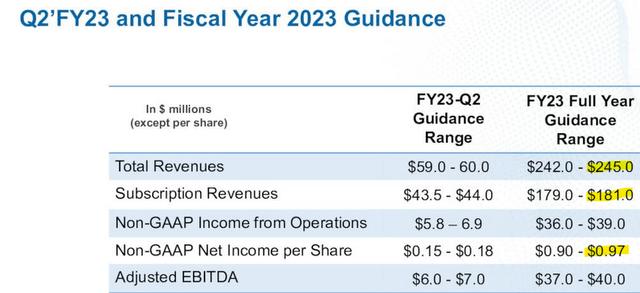 It will earn close to $1.00 a share. This will still push its forward price-to-earnings ratio above the sector median, hurting its valuation grade: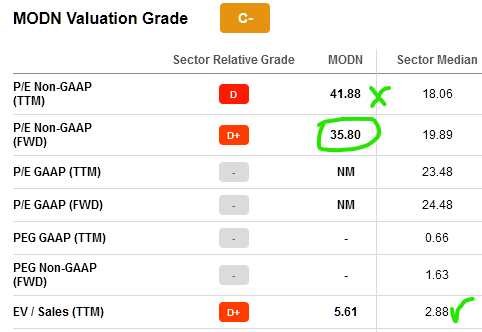 The macroeconomic weakness ahead is unlikely to slow the customer transition to subscriptions. In the last quarter, Model N did not see any major weakness in demand, especially in life science. Instead, companies are coming out of the pandemic. They need to address inventory and channel issues.
On slide 8, Model N illustrated its customer base ranges from small to mid-sized up to global enterprises: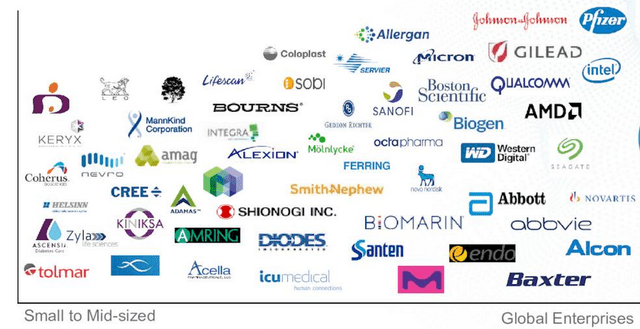 Investors will pay a premium in return for the diversified customer base.
Interestingly enough, Model N cited Moderna (MRNA) choosing its Global Tender Management for use in Europe. Despite operating primarily in the US, Moderna recognized the value proposition of the Model N product. That MRNA stock fell to lows not seen since Nov. 2022 will not change its service requirements from Model N.
The contract win illustrates that Model N's platform is not constrained by geography. In addition, the customer example reminds investors that Model N is concentrating its customer base in the life sciences market. As recessionary risks rise considerably in 2023, software companies that serve the life sciences market will report a steady increase in revenue growth.
Risk
The market's reaction to Model N's quarterly report is bearish. Chart readers cannot ignore the selling pressure that could continue.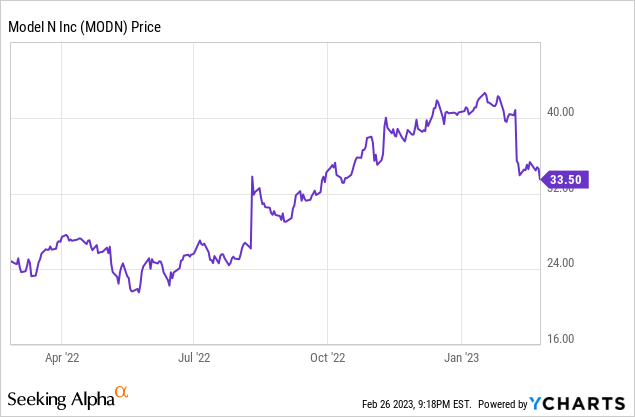 The short float of 6.57% is somewhat high. This is not a slam dunk bearish win as seen with highly shorted stocks like Carvana (CVNA) at 71% or stocks like Lucid Group (LCID) at 22.4%. Still, the short bet against MODN stock might trigger a short squeeze or further downward pressure.
Your Takeaway
Investors seeking a hyper-growth technology company should add Model N to the watch list. The company has a growth grade of B-. It needs to post bigger contract wins with existing and new customers. If that happens, consider building a starting position as the stock retests recent lows.