Introduction
My thesis is that Toyota (NYSE:TM) is accelerating their push into battery electric vehicles ("BEVs") now that they have a new CEO.
At the time of this writing, ¥1,000 is equivalent to about $7.48. The way I convert ¥ figures in my head is by moving the decimal 2 places to the left and taking 3/4ths of what's left.
BEV Acceleration
On February 13th, Toyota announced that Officer Koji Sato will be taking over as CEO on April 1st. Incoming CEO Sato said Toyota will be focusing on topics of electrification, intelligence and diversification. In terms of the electrification theme, he made a point of saying BEV development is being accelerated and he mentioned the Lexus brand:
Specifically, we will develop next-generation BEVs for the Lexus brand by 2026, with everything from the battery and platform to how a car is built optimized for BEVs, while expanding our current BEV lineup.
Incoming CEO Sato went on to cement the fact that Lexus is spearheading the BEV transformation:
To deliver attractive BEVs to more customers, we must streamline the structure of the car, and – with a BEV-first mindset – we must drastically change the way we do business, from manufacturing to sales and service. Lexus will lead this transformation.
Specifics were given as to how Lexus will be leading the charge with BEVs during thand Q&A portion of the February 13 announcement. ICE vehicles have too much heat whereas BEVs sometimes don't have enough heat so incoming CEO Sato said Toyota is planning the architecture accordingly. Incoming CEO Sato also said Toyota is starting the BEV efforts with Lexus because customers have high expectations with the Lexus brand.
It isn't just the CEO change directly that will speed up Toyota's development of BEVs. Other management changes will help in this regard as well. Managers will now have an easier time communicating BEV progress with the new CEO who has more of an electric mindset. During the Q&A portion of the February 13th announcement, incoming Chief Production Officer Kazuaki Shingo, incoming Executive VP Hiroki Nakajima and incoming CFO Yoichi Miyazaki all made encouraging statements. Incoming Chief Production Officer Shingo said Toyota has always cherished the idea of ​​an eco-friendly car and he reminded us that their top-selling Prius hybrid was introduced in 1997. Stressing the affordability factor for eco-friendly cars, he said the compact car has a high hurdle given the expensive technology investments that need to be made. This is one reason why it makes more sense to start with a high-priced brand like Lexus where customers are used to paying extra money for the latest innovations. Noting that Lexus is one of Toyota's top brands, incoming Executive Vice President Nakajima said in the Q&A that there are high expectations with Lexus with respect to BEVs. He made it clear that the BEV lessons learned at Lexus will be shared with Toyota; it will not be Lexus versus Toyota. Nikkei Asia reported on February 21st that Toyota will make BEVs in Kentucky as early as 2025. They will also be making batteries in North Carolina. This makes sense given what incoming CFO Miyazaki said in the Q&A about Toyota engaging in BEV production locally now that they're seeing increased demand.
Valuation
We need to understand the geographic segments when thinking about valuation. Looking at the 2022 20-F through March 2022, the Japan segment shows 3,640,000 gross units sold but it reveals that 1,716,000 of these were exported for a net figure of 1,924,000 units. A Motley Fool article has influenced my thinking about Toyota's geographic segment reporting. My understanding is that segment unit sales graphic shows this net figure of 1,924,000 units for Japan but the segment operating income graphic for Japan is based on the gross figure of 3,640,000 units. We need to keep this in mind when looking at the 9-month numbers through December 2022. Here are 9-month unit sales through December 2022 from the 3Q23 presentation: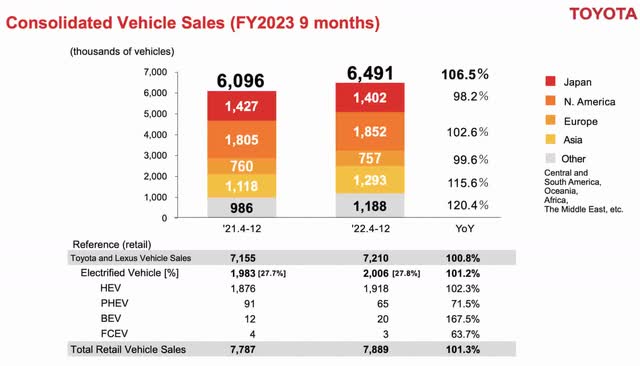 The appendix shows that the unit sales numbers above can be confusing given complications with Daihatsu, Hino and joint ventures: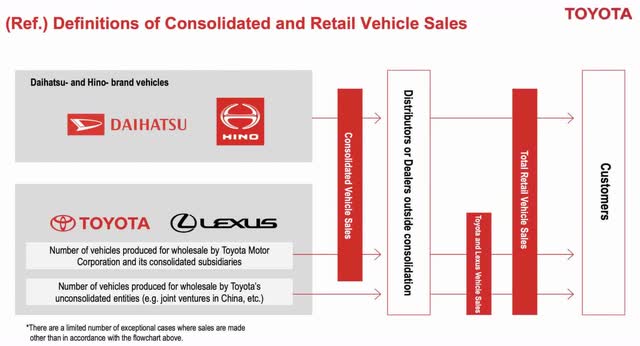 The 3Q23 presentation shows that much of the 9-month operating income through December 2022 came from the Japan and Asia segments. Again, the Japan segment operating income figure is overstated due to export considerations: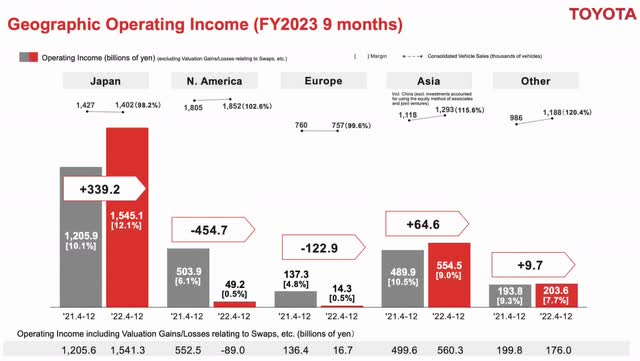 The 3Q23 transcript through December 2022 explains that soaring material prices and an overall increase in expenses hurt operating profit in North America:
Overall trailing-twelve month ("TTM") operating profit and revenue through December 2022 were ¥2,561,957 million and ¥35,576,499 million, respectively, which came to $18,702 million and $259,708 million, respectively. This is based on ¥2,098,095 million + ¥2,995,697 million – ¥2,531,835 million and ¥27,464,033 million + ¥31,379,507 million – ¥23,267,041 million, respectively.
The 2022 20-F says each TM ADS on the NYSE represents ten shares of Toyota common stock. Per the 3Q23 summary, there were 13,615,939,179 net shares at the end of the period through December 22nd based on 16,314,987,460 gross shares less 2,699,048,281 treasury shares. Dividing by 10 and multiplying by the March 13th share price of $137.12 gives us a market cap of $187 billion.
The balance sheet through December 2022 shows non-controlling interests of ¥914,198 million and retirement benefit liabilities of ¥1,059,060 million. Adding these together gives us ¥1,973,258 million and converting to US dollars gives us a consideration of nearly $15 billion. The net debt situation is a bit nebulous because financial debt should not be treated the same as automotive/industrial debt. The short-term debt of ¥11,898,754 million combined with the long-term debt of ¥16,560,084 would add a consideration of ¥28,458,838 or $213 billion if it were all on the automotive side but it would be partially offset by the cash of ¥6,022,089 or $45 billion.
The market cap seems reasonable relative to the operating profit, but the enterprise value is hazy depending on how much of the net debt on the balance sheet is from the automotive business as opposed to the finance business. I'm not sure whether or not the stock is a good buy at this time.
Bloomberg reported that Toyota's new EV platform is slated for 2026; new details will be announced in April. Forward-looking investors should keep tabs on these upcoming announcements.
Disclaimer: Any material in this article should not be relied on as a formal investment recommendation. Never buy a stock without doing your own thorough research.