Securities markets in the US are heavily focused on price inflation. Monthly prints of CPI and PCE data have typically jarred markets in one direction or another. Google Trends reveals a material uptick in searches for "inflation" in recent months.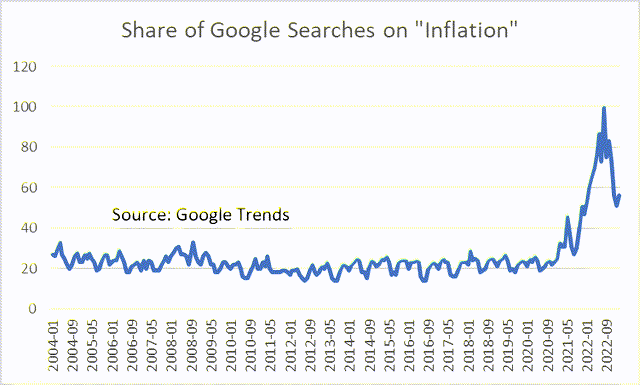 Yet last year's nearly unprecedented bond selloff has created an opportunity. Bond yields have reached levels not seen in over a decade. One of the emerging "value" plays in the fixed income market are Treasury inflation-protected securities (TIPs). For most of the past decade, they have been priced well above par. A buy and hold strategy would have struggled to beat inflation due to the amortization of this price premium over time.
In the past 12 months, the Fed has raised short-term interest rates 8 times. The short end of the treasury yield curve is now anchored just below 5% – a dramatic shift from the easy money policies prevailing since the Great Recession. TIPs look more attractive now.
Let's provide some context on TIPS. The US Treasury began using them as a funding vehicle in 1997. Today they are issued in maturities of 5, 10, and 30 years. Like other treasuries, they pay coupon interest semiannually and enjoy the full faith and credit of the US government. Their distinguishing feature is that their face value increases every six months in lockstep with the reported CPI. In short, the principle value of the bond increases at the same rate as inflation.
The higher the rate of inflation between issuance and payment, the higher the dollar amount of the payment. As such, TIPs respond well to unexpected surges in inflation. In the absence of such surges, however, their short-term price performance is noisy and bears little correlation to the CPI.
Recent increases in interest rates have reduced the prices of TIPs below their face value. Buy and hold investors can now expect to earn a premium to inflation as real interest rates have turned positive. The following chart tracks real interest rates implied by 10-year TIPs pricing.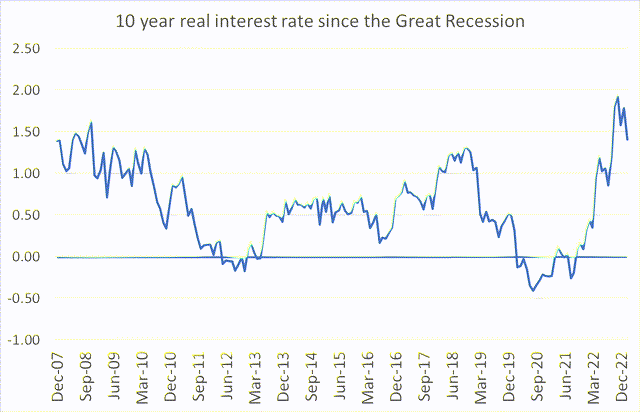 Buy and hold investors in TIPs with a 10-year maturity can expect to earn roughly a 1.5% annual premium to realized inflation. That's very attractive by recent standards and these positive real yields are strong throughout the yield curve. Shorter term TIPs also offer expected returns well above inflation.
The inflation paradigm has shifted. There was virtually no risk of inflation during and after the Great Recession. That is not the case today. Investors have experienced a significant runup in prices over the past 18 months and have become sensitized to small shifts in inflation expectations. Monthly data releases on consumer and producer price levels are now the most parsed pieces of financial news.
Contrary to popular belief, TIPs do not perform particularly well in periods of rapid price increases … assuming that these increases are anticipated. TIPS suffered significant reversals in 2022 as an example. Their real value occurs in an environment of positive inflation shocks. That is to say, they do well in periods of unexpected inflation.
It is difficult to quantify levels of uncertainty regarding inflation, but we can offer some insight. The St. Louis Fed tracks 1 year forward inflation expectations based on TIPs pricing and inflation swap contracts. I put together a chart of the rolling 24 month volatility in this measure. It's not definitive, but it does suggest a high degree of volatility in today's inflation expectations.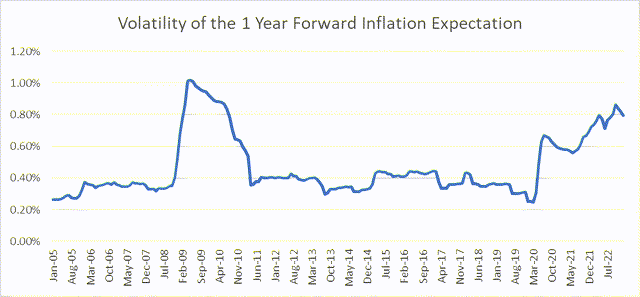 There is an intuitive appeal to this result. Extremely aggressive monetary policies on the part of the Fed created diverging expectations about its effect on prices. Intense interventions by our central bank add noise to the system. This occurred with dramatic effect during the Great Recession and in the Pandemic.
Financial markets are highly efficient. There is no way to predict that one security will outperform another over a fixed period of time. However, markets do allow for securities to exhibit tendencies. Stocks generally outperform bonds. Value stocks generally outperform growth stocks. Bonds generally offer better returns when their yields to maturity are higher. Today's bond market is now priced to offer those higher yields. Additionally, TIPs occupy an advantageous niche within the bond space.
Their structure allows them to respond to changes in inflation expectations. That attribute may serve investors well in an environment with strong public interest in the topic amid heightened volatility in those perceptions.
TIPs are a material fraction of the treasury market. There is $1.9 trillion value outstanding in today's marketplace, about 8% of all treasury issues outstanding. It's important to note that TIPs are excluded from the Bloomberg Aggregate Bond Index. It is therefore not sufficient to buy a bond index fund and presume exposure to TIPs. Investors should consider an explicit allocation.
It's reasonable to orient one's fixed income portfolio to respond to actions of the Fed. I wrote an article in November recommending the short end of the yield curve. TIPs may be another area to tilt towards given inflation's elevated profile as a risk factor.
There are a handful of ETFs with low management fees that provide broad exposure to TIPs. Keep in mind that these funds will provide constant maturity exposure and are not holding individual issues to redemption.
| | | | |
| --- | --- | --- | --- |
| Fund | Ticker Symbol | Management Fee | Comments |
| Schwab US TIPS ETF | SCHP | 0.05% | Invests in the overall maturity spectrum of the US TIPS market |
| Vanguard TIPS Fund Admiral Shares | VAIPX | 0.10% | Invests in the overall maturity spectrum of the US TIPS market |
| Vanguard Short Term TIPs Index | VTAPX | 0.06% | Invests in TIPs with 1 to 5 year remaining maturities |
| PIMCO 1-5 year TIPS Index | STPZ | 0.20% | Invests in TIPs with 1 to 5 year remaining maturities |
One can also buy individual TIPs with the intention of holding until maturity. They can be purchased through one's broker. Here is an example of recent pricing from the Wall Street Journal.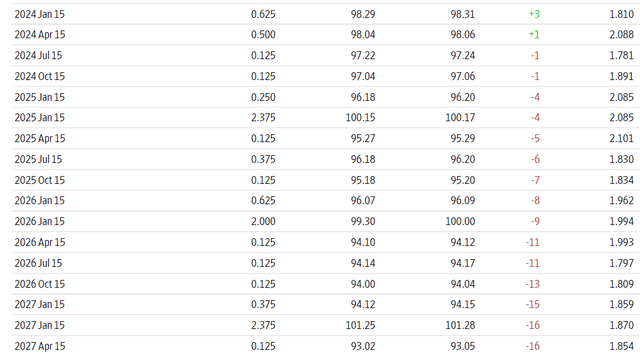 Last year's bond market selloff was unpleasant. There was a silver lining, however. Fixed income securities serve as ballast in investor portfolios with yields anchored near 0%. Most bonds now are priced to deliver solid returns. TIPs may occupy an especially favorable niche in that space.