Investment Thesis
After a rough first half in 2022, Shift4 Payments (NYSE: FOUR) has been gaining strong momentum in the past few months, with shares up nearly 90% since June. The company operates in the massive fintech market and continues to expand into new verticals, which should provide a lot of growth opportunities moving forward. Despite facing tough macro headwinds, its latest earnings continue to show impressive top-line growth while the bottom line is starting to scale. The current valuation also seems pretty compelling when considering its prospects and growth. I believe there is still potential upside and I rate the company as a buy.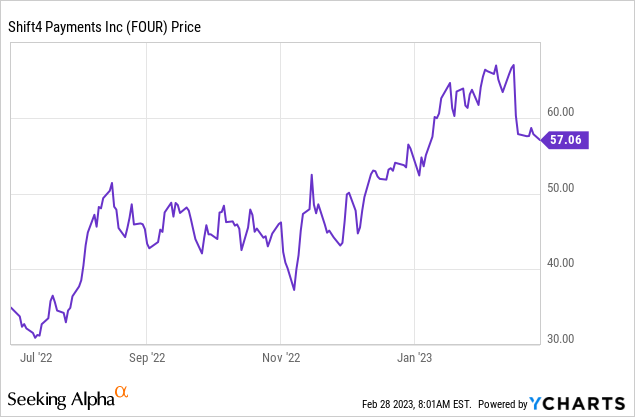 Growth Opportunities
Shift4 Payments is a US-based fintech company founded by Jared Isaacman back in 1999. The company provides payment processing solutions that help companies around the globe to accept and process payments easily. It supports multiple channels such as POS (point of sale), mobile payments, e-commerce, and more. The company currently processes over $200 billion annually for over 200,000 customers, including notable brands such as SpaceX, Hilton (HLT), and Caesars Entertainment (CZR).
The company originally specializes in the restaurant and hotel industry but has been expanding rapidly into other verticals like tech, gaming, sports, and entertainment. The company recently started processing tickets for several NFL and NBA teams like the Cleveland Cavaliers. The expansion into new verticals should continue to be a growth driver.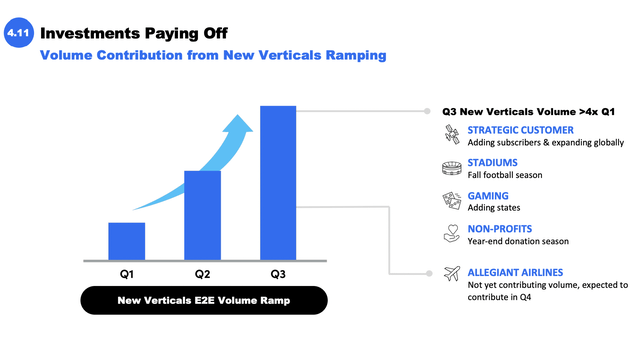 The fintech market is massive and has been growing rapidly in the past decade thanks to digital transformation. Its presence has also been boosted significantly by the pandemic. According to Vantage Market Research, its TAM (total addressable market) is forecast to grow from $112.5 billion in 2020 to $332.5 billion in 2028, representing a strong CAGR (compounded annual growth rate) of 19.8%.
The expansion is driven by higher usage rates of credit or debit cards, an increase in digital payment methods, and the growing adoption rate of emerging industries such as e-commerce, ride-hailing, food delivery, and more. For instance, the company recently signed a partnership with PayPal (PYPL) to offer PayPal, Venmo, and BNPL (buy now pay later) as a checkout option for its merchants. The fast-growing market should generate solid tailwinds for the company moving forward.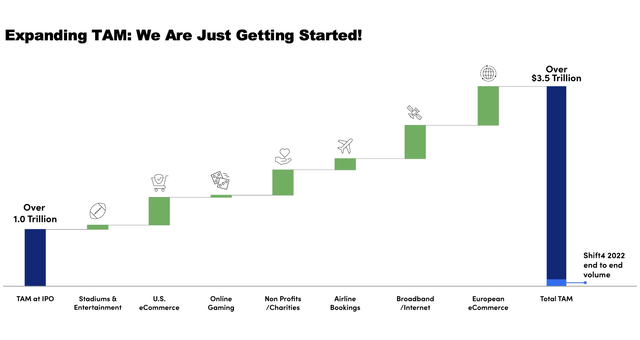 Q4 Earnings
Shift4 Payments just announced its fourth-quarter earnings and the results are outstanding, especially the bottom line. The company reported revenue of $537.7 million, up 35% YoY (year over year) compared to $399.4 million. The growth is largely driven by strong payment volume, which increased 55% YoY from $13.4 billion to $20.7 billion. This is contributed to larger customers as the company continues to move up markets. For context, the current average size of merchants is over 200% above Q4 2019.
The bottom line was the highlight of the quarter as the company demonstrated strong operating leverage. Despite revenue being up 35%, costs were only up 24.8% from $315.3 million to $393.6 million. This resulted in gross profit increasing 78% YoY from $77.7 million to $138.3 million. The gross profit margin was 25.7% compared to 19.5%, up 620 basis points.
The spending on operating expenses is also very disciplined. G&A (general and administrative) expenses were $68.6 million compared to $66.2 million, up only 3.6% YoY. Advertising and marketing expenses were $3.7 million compared to $2.8 million, up 32.1%. However, the base number was small so it did not affect the bottom line much. This resulted in adjusted EBITDA skyrocketing 115% from $44 million to $94.4 million, with an adjusted EBITDA margin of 47%. Net income flipped from negative $(9.4) million to positive $38.5 million, or an EPS of $0.51.
The company also initiated guidance for FY23, which indicates no sign of slowing down. Revenue is expected to be $2.5 billion-$2.7 billion, or a revenue growth of 25%-35%. The gap is quite large, but it is understandable when considering the volatility in the economy. Payment volume growth is expected to be 40%-52% while adjusted EBITDA growth is expected to be 42%-50%.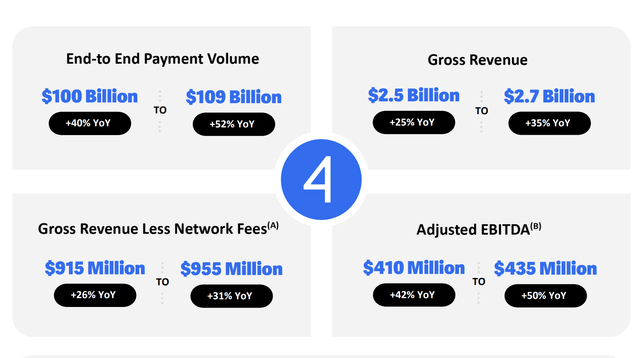 Investors Takeaway
The fourth quarter's results were strong in my opinion. Despite facing a tough backdrop, it still managed to grow revenue by over 30%. Payment volume continues to be strong as it expands into new verticals and moves up markets. The bottom line is showing superb operating leverage with income flipping from negative to positive. The guidance was also upbeat with over 40% growth in both payment volume and adjusted EBITDA.
Even after the rally, Shift4 Payments' valuation still looks compelling. It is currently trading at an fwd EV/EBITDA ratio of 16.1x, which is cheap considering its growth. This is also significantly below other payment processing companies such as Adyen (OTCPK:ADYEY) and Block (SQ), which have an fwd EV/EBITDA ratio of 40.5x and 34.2x respectively. I don't think the discount is justified as Shift4 also posted in-line growth rates compared to Adyen and much higher growth rates compared to Block. I believe the company deserves a multiple in line with peers which should offer meaningful upside.
I like the company's prospects and there are still massive growth opportunities ahead of them. Financials continue to be very strong yet valuation remains discounted compared to peers. Therefore I rate Shift4 Payments stock as a buy.