Overview
Semrush Holdings Inc. (NYSE:SEMR) is a digital marketing analytics software company. The 'SEM' in the name, originally capitalized, is an acronym for 'search engine marketing' – the firm's original and core focus. Semrush provides a SaaS platform for measuring various digital marketing metrics, including cost-per-click of keywords and measurements for search engine optimization. This comes packaged as a unified platform that allows customers to conduct research, measure the effectiveness of digital marketing campaigns, and push advertising content through to social channels.
The company has been in business since 2008 but is a recent entrant into the public capital markets, listing publicly in Q1 2021 at $14 per share. SEMR stock has depreciated since that time, currently trading at $8.64 as of this article. It has also underperformed the S&P 500 throughout that period, trailing the index's price performance by 28.61%.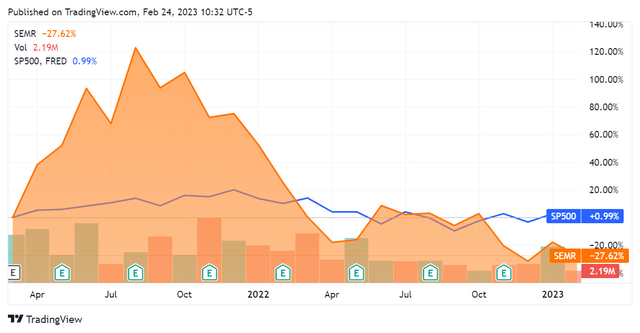 This article will review the firm's financials and valuation in order to determine if the shares may constitute a good entry point at present and if the business is fundamentally sound as a whole.
Financials
Semrush is certainly a growth stock and shouldn't be considered a mature technology entity, even though it has been in business for close to 15 years; it is not profitable at present.
Revenue growth over the last 10 quarters has been solid, however, the firm continues to put up significant double-digit growth on a YoY basis.


The firm is still not generating an operating income, confirming that it's a growth stock still proving its business. Operating income has been negative for every quarter but one over the last 10.

Additionally, Semrush has seen a consistent increase in its operating expenses throughout this period. SG&A and R&D expenses have continually ticked up throughout the last 10 quarters, and total opex hit record levels of 87.71% of revenues in its most recent quarter. This indicates that it is still trying to achieve scale as opposed to profitability.

Nevertheless, the firm has a relatively clean balance sheet. Book value has been positive since its public offering, and the $5.3M of debt that the company took on during that period was paid off within two quarters. At present, they aren't holding any debt and have an asset surplus of $246.6M.

These asset holdings are entirely in the form of cash & short term investments, indicating that the firm is well capitalized and has a multi-year runway to continue sustaining operating losses. I would call this healthy for a firm at this stage.

As mentioned, the company is still losing money. Taking a quick look at net income, we see that Semrush was only able to post a single profitable quarter throughout the last 10. The net income trendline isn't particularly clear, as it seems that they had some momentum towards profitability at IPO time but then swung back into what is a persistent net loss that has continued through to the most recent quarter. I think it's fair to interpret this as management proving the company's capacity to generate a profit and then subsequently doubling down on growth; the material growth in operating expenses above certainly speaks to this.

These financials speak to a company trying to grow itself. It isn't immediately clear as to whether they will succeed, as there hasn't been any proof of the firm's capacity to generate sustained profits or cash flows. The highlights here would be the ongoing brisk revenue growth as well as the significant cash on hand. The firm is efficient with capital as it is not paying interest or sustaining debt. Since the numbers for net income are relatively close to zero and the balance sheet is healthy, we can at least infer that the company is well-positioned to eventually swing itself into a profitable enterprise.
Valuation
This company is still expensive on a sales multiple basis even though it has shed roughly 45% of its value since the IPO. It is trading at a 92% premium relative to the information technology sector overall. This indicates that the market is pricing in future growth.

The question here is how long it will take for the company to reach sector parity as well as sales valuation. Looking at the company's growth rates over the last two years, we can average out an annual growth figure of 43.06%.

At these growth rates, Semrush can actually grow into its valuation in less than 2 years.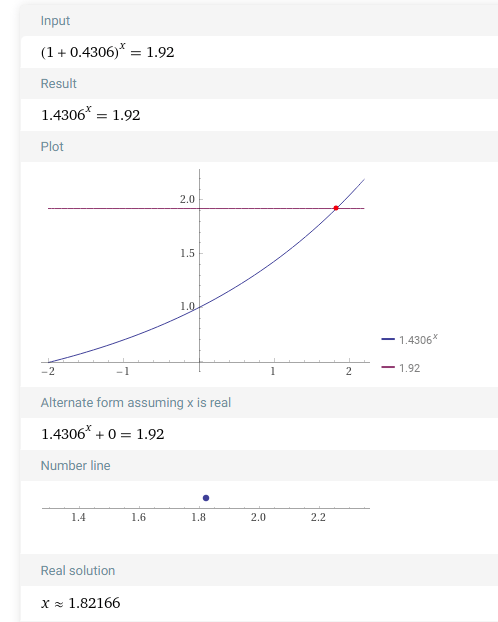 Even if YoY sales growth were to halve to a 21.53% rate, we see that Semrush can still achieve sector parity on its valuation in only 3.35 years.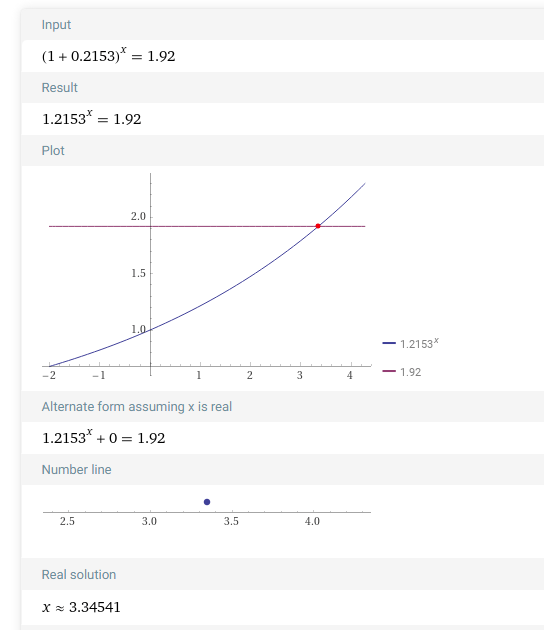 As such, the company's current valuation seems reasonable and could be considered cheap when we have a horizon of 10 years. Of course, it will also have to become profitable during that period – which is another matter – but the sales multiple is priced on a very near-term horizon.
Conclusion
Semrush is a rapidly growing firm that has a robust balance sheet. While it's neither profitable nor cash flow generative, the firm's brisk growth in revenues is discounted by the market towards the near-term. As mentioned above, even a halving of the firm's sales growth rate places it well under 5 years in order to achieve parity within its sector. The sole profitable quarter that the company put up during its IPO is a vote of confidence in its eventual capacity to generate profits.
I am relatively confident that the company can maintain something close to this growth rate as it has already signed up various marquee customers – a highlight of which can be seen below. Taking this as a proxy, we can infer that it has a quality product. This proof of concept can then be translated into selling into other, less-well known, brands.

For investors operating with a 5-10 year horizon, SEMR stock looks like a buy.