Lam Research Corporation (NASDAQ:LRCX) is investing heavily in R&D to offer innovative solutions to its consumers. Due to its expertise, the company has been able to generate double-digit revenue growth, outperforming industry growth rates three times over. According to industry research, the the total market is expected to grow at a high single-digit growth rate, which is a significant tailwind for the business. However, restrictions on Chinese exports might slow the company's growth rate, which is why we have adopted a conservative approach in our assumptions for the DCF model. Nevertheless, even with conservative assumptions, our analysis indicates that the stock is trading well below its intrinsic value.
Several factors are fueling the growth of the semiconductor manufacturing equipment market. The rise of IoT, 5G technology, and AI is boosting demand for electronic devices, which in turn is driving demand for semiconductors and contributing to market growth. The automotive industry's increasing reliance on semiconductors for ADAS, autonomous driving, and infotainment systems is another significant driver of market growth. Additionally, companies' heavy investment in R&D to create advanced manufacturing equipment is resulting in a surge in demand for such equipment and supporting market expansion. Finally, governments worldwide are providing incentives and support for the development of the semiconductor industry, further driving investment and growth in the market. Given the strong demand it is anticipated that the semiconductor manufacturing equipment market will expand from $62.4 billion in 2020 to $95.8 billion by 2027, representing a CAGR of 9.0% (Researchandmarkets analysis).
Lam Research Corporation is well-positioned to capitalize on the growth trend. From 2010 to 2020, the semiconductor equipment market grew at a compound annual growth rate (CAGR) of 5%, increasing from $39.5 billion to $64.2 billion. However, Lam Research outperformed the industry with a revenue CAGR of 14.8%, nearly tripling the overall growth rates during the same period.
Lam Research specializes in the manufacturing and distribution of semiconductor processing equipment. Their product line is tailored for the production of integrated circuits and includes various systems that can be used for depositing, etching, and polishing thin material films on silicon wafers. Apart from selling these products, Lam Research also provides related services such as maintenance, training, and upgrading support for their clients. Lam Research collaborates with the biggest giants in the semiconductor industry, who depend on Lam Research's products and services to produce their cutting-edge semiconductor devices. By providing advanced technology and expertise, Lam Research has established enduring partnerships with numerous customers who rely on them to stay competitive in the semiconductor market.
The management is actively investing in innovations to continue to outperform the industry. In 2020 Lam Research announced about the development of Vantex, an innovative technology for the etch equipment market that could potentially improve the company's sales. This technology allows for higher etch selectivity and reduced sidewall roughness, which are necessary for producing smaller and more advanced chips. Vantex can reduce manufacturing costs by eliminating the need for additional processing steps, providing cost savings to chip manufacturers. This technology satisfies customer demands for more advanced etch equipment, giving Lam Research a competitive edge in the market. Additionally, Vantex's superior performance can increase customer loyalty and repeat business, leading to the expansion of partnerships. The management has acknowledged that Vantex technology has provided the company with a competitive advantage in the market, meeting customers' requirements for more sophisticated etch equipment.
The Acuity Precision 500 system was another significant factor in Lam Research's success over its competitors. Semiconductor manufacturers worldwide have widely adopted this system, which provides high resolution and accuracy in detecting and characterizing defects and particles on wafers. It is an essential tool to ensure the quality and yield of semiconductor devices. The system is equipped with advanced optics and algorithms that can detect defects as small as 10 nanometers, making it one of the most precise inspection tools in the market. Furthermore, it has a high throughput, allowing it to inspect up to 240 wafers per hour.
The system has already been adopted by several well-known industry players such as Samsung Electronics (OTCPK:SSNLF), Micron Technology (MU), Intel Corporation (INTC) and GlobalFoundries (GFS). Its high resolution, accuracy, and versatility are among the most beneficial features of the product that have been identified as key factors contributing to its success. According to one of the most popular semiconductor industry research firms – SEMI, semiconductor manufacturers were increasing their investments in wafer inspection tools. The survey revealed that manufacturers actively invest in tools development that could identify smaller defects and provide more detailed information about their causes. Due to the growing complexity of the devices, it is now much more difficult to detect defects. Thus the misdetection causes higher failure rates during production. That is why the producers are ready to invest heavily on systems to reduce their costs.
With a creative approach, the company was able to achieve unprecedented success in the 2022 fiscal year, boasting an all-time high in earnings per share and a record revenue of $19 billion. The memory sector dominated the systems revenue, accounting for 50%, while the NAND sector claimed 39%, and the DRAM sector's concentration dropped compared to the previous quarter.
The company faced difficulties in China, as the region was 24% of the total revenue, down from the previous quarter level of 30%. Due to US export restrictions on semiconductor products to China, Lam Research expects to lose its profitable Chinese market, which could amount to a revenue loss of $2-$2.5 billion. The management also expects gross margins to shrink to a level of 44.5%. One of Lam Research's most important clients in China is Yangtze Memory Technologies Co. to which the company supplies wafer fabrication machines. However, the new restrictions will likely significantly limit this cooperation.
In the margins side the business faces several challenges as in the quarter ending in December 2022 lower gross margin was recorded due to variations in the customer and product mix. The management expects the March 2023 quarter to have lower factory and field utilizations that could negatively impact gross margins. Meanwhile, operating expenses rose by 6% from the previous quarter, mainly due to increased spending on R&D projects, which accounted for almost 67% of their total spending.
Valuation
To conduct a valuation analysis, we have adopted the income approach and relative valuation method. To calculate revenue for the upcoming 5-year period we have taken historical average revenue CAGR of 16.5% and using linear interpolation reduced the rate to 9% in 2027 (Researchandmarkets analysis). Similarly, we have taken historical average EBITA and Capex margins and interpolated them to reach peers' average margins in 2027.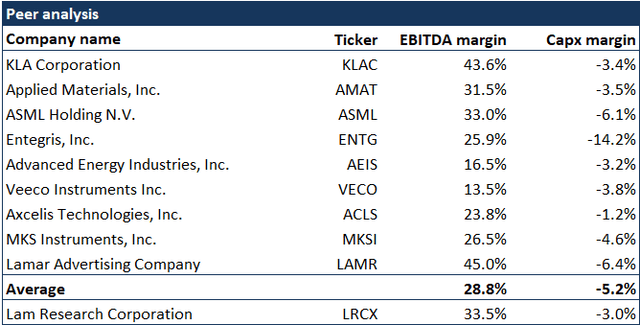 Peers' margins in both cases are more conservative compared with Lam Research's historic margins.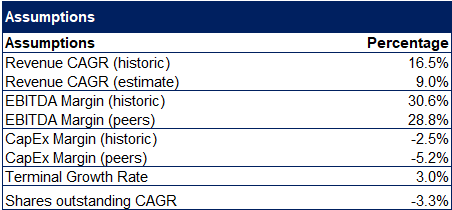 For WACC we have used 60-month beta of 1.47, which yields WACC of 12.1%.

As a result we get an implied stock price of $559 which is 14% higher than the current market price of $492 as of 04 Mar 2023.

We have also conducted relative valuation analysis. Using 9 competitors' PE (FWD), EV/EBITDA (FWD), Price/Sales (TTM) and Price/Cash Flow (TTM) multiples we see that the stock is relatively undervalued against its peers as the implied stock value is $618, indicating 25.7% undervaluation.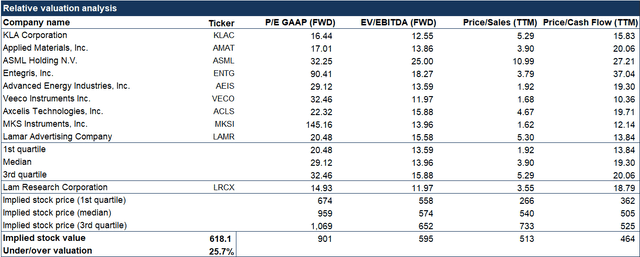 Conclusion
Lam Research is performing exceptionally well and has been successful in introducing innovative solutions that generate substantial cash flows and capture market share. Our valuation analysis indicates that the stock is undervalued, and we have assigned a Buy rating with a $589 stock value, indicating a 20% undervaluation. We arrived at this intrinsic value by averaging our two approaches.