Markets tend to surprise on both the upside and the downside. That can be confusing at times but also sets up solid opportunities. Century Communities Inc. (NYSE:CCS) and the homebuilding sector is what we want to focus on on today and tell you why you have a compelling opportunity to exit, or short sell.
Our Previous Coverage
We covered CCS on three occasions previously.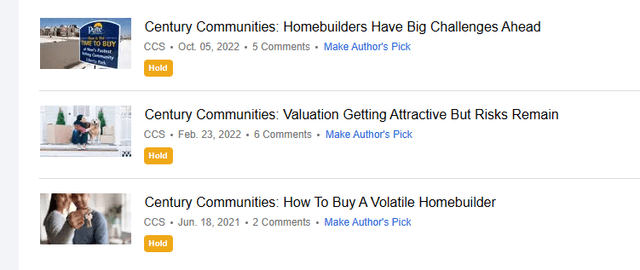 In all 3 cases we looked at the prevailing fundamentals and sent one common message.
Don't Forget That Cyclical Stocks Are Cyclical.
That message was for those taking the "low P/E" to mean that they were going to make a lot of money. Cyclical stocks always look cheap at tops and expensive at bottoms and that is about the biggest certainty in the markets. In all 3 cases, we also suggested investors use cash secured puts to layer in a buy point.
1) In "How To Buy A Volatile Homebuilder" we chose a $55 strike.
2) In "Valuation Getting Attractive But Risks Remain" we chose a $50 strike.
3) Finally in our last piece, "Homebuilders Have Big Challenges Ahead" we chose a $40 strike.
The pattern here, in case it was not immediately apparent, was to find a value point along the spectrum where CCS was fairly valued. Despite huge earnings throughout 2022 and building of tangible book value, we felt that point was progressively lower. In other words, the fundamentals were deteriorating so badly that we needed to only go long at bigger and bigger discounts to tangible book value.
That worked out well overall. Those who followed those 3 trades made a lot of money. The buy and hold crowd did not and the stock is down since our initial article.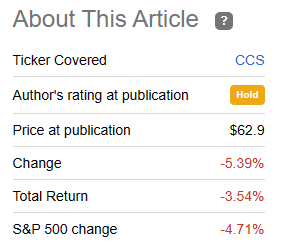 The Setup Today
While the stock has rebounded from the October lows, we see this as a huge liquidity driven move. Don't believe us? Let us give you some proof. Back in October 2022 in our last article we told you exactly how bad the fundamentals were getting and why analysts were just out to lunch.
Earnings estimates are still completely removed from reality in our opinion. Consensus expectations are for a 12% drop in revenues and a 17% drop in earnings.

Those are truly laughable forecasts. We would be shocked if revenues only dropped by 25% in 2023 (from current expected 2022 base) and earnings did not drop by at least 50%.
Source: Homebuilders Have Big Challenges Ahead
So we called earnings estimates of $15.87 for 2023 as "laughable". Where do they stand today? Looks like someone took that "1" out of the equation.

Here is the problem. Those estimates are still laughable. You can see that as you examine the expected quarterly trend. Analysts expect a complete collapse in earnings for Q1-2023 and then a very rapid rebound.

So that we are going to say "Are you kidding me?" Things are getting worse and the home price adjustment is nowhere close to having even begun. The chart below shows just how much the housing payment needs to fall to get back in line with historical averages.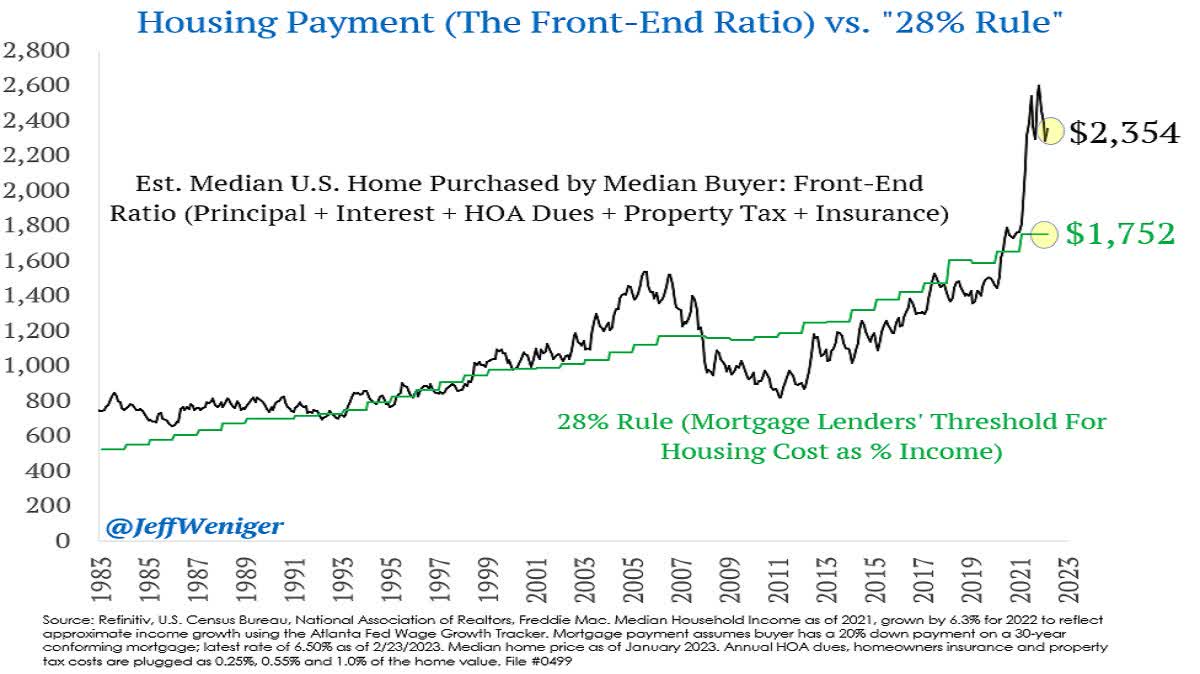 After such a bubble of epic proportions, we would expect the black line to fall far below the green one eventually. A couple of things that you need to keep in mind here are that of the 5 categories (Principal, interest, HOA dues, property tax and insurance), 4 will rise in 2023. The last 3 pretty much go up every year without fail. Interest is also set to rise. We will note that the market is adjusting to what the Federal Reserve has actually been saying. In the last 22 days we have repriced a lot of easing out of the equation. Hence with 4 categories going up, the only way for that black line to fall below the green one is for home prices to drop significantly. Yes, over time wages also move up and that helps the "green line" move higher. But the bulk of the adjustment will come from home prices dropping.
Verdict
CCS is now a compelling short. We rate it a "Strong Sell".
Investors have thrown fundamentals out of the window and gone straight for the liquidity rush. We expect the last two quarters of this year to be loss making for CCS versus the almost $4.00 in earnings expected by analysts. That sets up a huge divergence and we think CCS is likely to visit at least the low $30s if not lower by the end of the year.
Bulls may ask how this fits in with the price to tangible book value. After all CCS does appear cheap by this metric even today.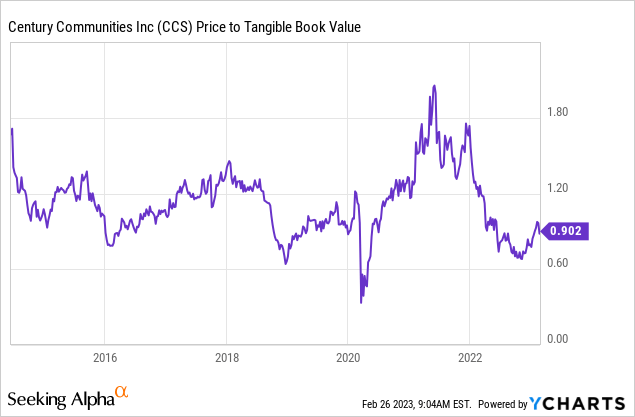 We get that and we have previously argued that the number should be used versus the P/E. The problem today is that fundamentals have worsened a lot and that tangible book value is pretty much all in inventories. In fact, inventories are at $2.8 billion, more than 40% higher than total shareholder equity.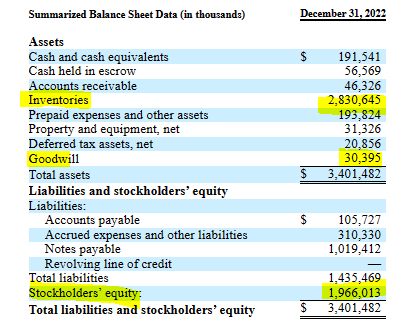 That ratio is even worse than what we saw for DR Horton (DHI). DHI's inventories are 110% of tangible equity.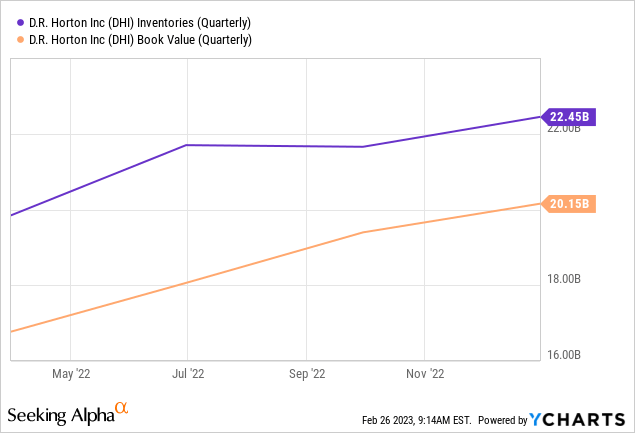 So we see a lot of write downs ahead for both of these homebuilders. We are currently short DHI and are looking to add CCS as a short, assuming borrow costs are low.
Please note that this is not financial advice. It may seem like it, sound like it, but surprisingly, it is not. Investors are expected to do their own due diligence and consult with a professional who knows their objectives and constraints.