Biopharmaceutical New Technologies or BioNTech (NASDAQ:BNTX) is a large ($31 billion market cap) immunotherapy company. They are developing cancer product candidates (Figure 1) but known mostly for their COVID-19 vaccines based on mRNA technology. At JP Morgan's 41st Annual Healthcare Conference in January, the company emphasized several regulatory milestones and data readouts (Table 1), the list of which may be incomplete as they need to align the year's schedule with their partners. This article will detail the most important items for investors.
Figure 1. BioNTech Portfolio for Cancer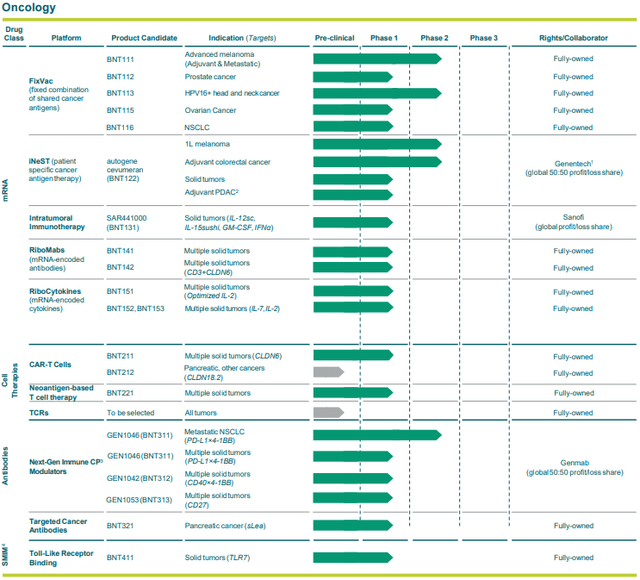 | | |
| --- | --- |
| 1 A subsidiary of Roche (RHBBY) | 3 Checkpoint Inhibitor |
| 2 Investigator-initiated trial in pancreatic ductal adenocarcinoma | 4 Small Molecule Immunomodulators |
Figure 2. BioNTech Portfolio for Infectious and Rare Diseases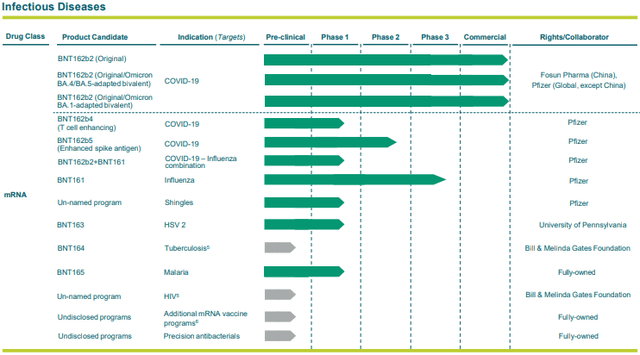 5 Collaboration with Bill & Melinda Gates Foundation. BioNTech holds worldwide distribution rights except developing countries where BMG holds distribution rights
6 Collaboration with University of Pennsylvania
Table 1. Select BioNTech Late- and Early-stage Pipeline Milestones Expected in 2023
Modality

Program

Indication

Select milestone

Anticipated timing

mRNA vaccines for infectious diseases

BA.4/5-adapted bivalent

COVID-19

Pediatric label expansion

2H 2023

BA.4/5-adapted bivalent+ BNT161

COVID-19 – influenza combination

Phase 1 update

1H 2023

BNT163

Herpes simplex virus 2

Phase 1 update

2H 2023

BNT165

Malaria

Phase 1 update

2H 2023

Individualized mRNA vaccines

Autogene Cevumeran (BNT122)

First-line melanoma

Phase 2 update

2023

Autogene Cevumeran (BNT122)

Adjuvant colorectal cancer

Phase 2 update

–

Immune checkpoint modulators

BNT311 (PD-L1x4-1BB)

Multiple solid tumors

Expansion cohort update

2023

BNT312 (CD40x4-1BB)

Multiple solid tumors

Expansion cohort update

2023

Cell therapies

BNT211

CLDN6+ solid tumors

Phase 1 update

2023
BA.4/5-adapted bivalent vaccine
On February 24, BioNTech SE and Pfizer (PFE) submitted a supplemental Biologics License Application (sBLA) to the US Food and Drug Administration (FDA) for approval of their Omicron-adapted bivalent COVID-19 vaccine as a primary series and booster for individuals 12 years of age and older. If this sBLA is approved, patients could get the bivalent vaccine for their primary series, rather than the original COMIRNATY. For a comparative timeline, the sBLA submitted on December 17, 2021 for COMIRNATY in adolescents 12-15 years of age was approved on July 8, 2022. Approval should be no problem. Yesterday, the company applied for Emergency Use Authorization (EUA) for a booster (4th) dose of the same bivalent vaccine in children 6 months through 4 years of age. Based on previous booster applications, FDA authorization should be received within a week or two.
BA.4/5-adapted bivalent + BNT161/PF-07252220 (BA.4/5-adapted bivalent + BNT161 = PF-07926307)
The booster is authorized for emergency use by the FDA for ages 5 years and older. On the seasonal influenza side, the Agency merely requires a new vaccine to demonstrate non-inferiority in immunogenicity with a licensed product. All investors need to know is that Pfizer initiated a 36,000-patient pivotal Phase 3 head-to-head trial and Chairman and Chief Executive Officer Albert Bourla expects BNT161 to "win with flying colors." Naturally, he doesn't want to share the market with also-ran competition and backs up claims of "very strong titers against the A strains" with better T-cell performance against Sanofi's (SNY) Fluzone HD (Figure 1). The combo data will likely be good.
Figure 3. Page 26 of Pfizer's Second Quarter 2022 Earnings Presentation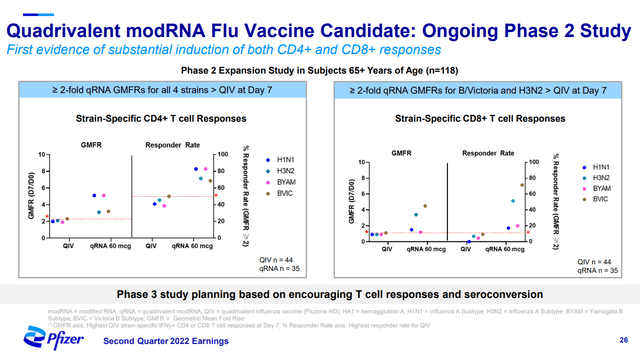 BNT211
BNT211 is a chimeric antigen receptor ("CAR") T-cell product given in combination with RNA-LPX, a CAR-T cell-amplifying RNA vaccine (CARVac). CAR T-cell therapies are gaining traction as treatments for hematologic malignancies, including Bristol Myers Squibb's (BMY) ABECMA and Breyanzi and Gilead Sciences' (GILD) Tecartus and Yescarta, certainly aiding the Buy case for both companies. It is harder to gain a foothold in solid tumors, because most cancer protein targets are also found in normal cells. Claudin-6 is one of those exceptions, as the CLDN6 gene that codes for it is silenced in healthy adult tissues.
At JP Morgan's, BioNTech highlighted preliminary efficacy of BNT211's first-in-human Phase 1/2 trial using CAR T-cell monotherapy (in Part 1) and in combination with CARVac (Part 2) in CLDN6+ solid tumors. The efficacy signal (Figure 1) in the 7 testicular cancer patients yielded one complete response ("CR") and 3 partial responses ("PRs"), for an overall response rate ("ORR") of 57%, with 2 additional patients who had stable disease ("SD"), the disease control rate ("DCR") was 85.7%. That data was compelling enough for BioNTech to plan a Phase 2 study for this cancer type.
Figure 2. Page 29 of BioNTech's JP Morgan Healthcare Conference 2023 Presentation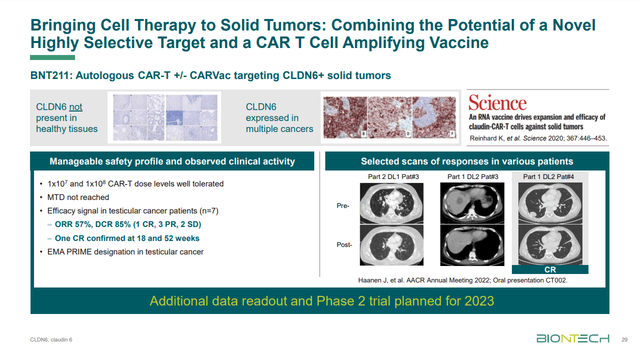 Except for the strange fact that it was old news, originally presented at the AACR Annual Meeting 2022 last April. Then, the overall scorecard was [1 CR, 6 PR, 5 SD, 43% ORR, 86% DCR] in 14 evaluable patients. At the European Society for Medical Oncology (ESMO) Congress 2022 in September, BioNTech gave follow-up data of [1 CR, 6 PR, 7 SD, 33% ORR, 67% DCR] in 21 subjects. Six of the 7 newer patients had testicular cancer, so ORR is down to 53% and at best, DCR is 67%, which isn't bad enough to hide.
Financials and Takeaways
BNTX slipped 20% from $160 per share since Q3 call in November, although earnings wasn't really a negative event, as the stock rallied past $186 in December. As of September 30, 2022, BioNTech had €13.4 billion in cash and equivalents, plus outstanding receivables of €7.3 billion, of which the company received €3.2 billion by October 15. This liquidity garners an A+ grade for Profitability according to Seeking Alpha's Quant system, while an industry-leading 1.5 EV/EBITDA is just one of the metrics that help earn an A+ for Valuation. Q3 research and development expenses were €341.8 million, so funding the pipeline should be no problem.
Downward revisions for EPS and Revenue are a concern. As discussed in the Gilead article regarding Veklury, 2022's Q4 was much milder than the previous two years as far as COVID-19 cases, which would affect sales and demand for the treatment but probably did not impact the vaccine, which would've been taken in preparation for the winter. The second half of 2023 will be very different, as the vaccine prices will rise to $110-$130 per dose and the burden of the cost will shift from the US government to private distributors, with patients no longer getting it for free but likely to be paying what they normally would for other vaccines.
Nevertheless, analysts estimate $8.27 billion in revenues for 2023, which is less than half of the expected $17.49 billion from last year. In comparison, Vertex (VRTX), a $75 billion company with a similarly young pipeline and wholly reliant on its cystic fibrosis franchise for revenues, is penciled in for 2023 sales of only $10.38 billion (upwardly revised from $9.7 billion just 3 weeks ago). So although its revenue generation is under a cloud, overall, BioNTech is a good value play and defensive healthcare stock in a bear market with catalysts. Individually, the clinical readouts mentioned above may not move the price needle, but successful ones could lead to plans for registrational trials.