Auburn National Bancorporation (NASDAQ: AUBN) is the bank holding company for AuburnBank, an Alabama state-chartered bank.
AUBN has a strong position in the rural counties where it operates. Further, it has grown profits and deposits consistently. It is mostly deposit financed.
However, I believe the company does not command a significant premium on earnings because it has shown that it cannot operate countercyclically. It expanded its deposit base aggressively in 2020 and 2021 to purchase low-yielding securities now hanging on its BS.
Trading at a P/E ratio of about 10.5x from recurring earnings, the bank does not offer a significant margin of safety against the probable increase in deposit costs.
Note: Unless otherwise stated, all information has been obtained from AUBN's filings with the SEC. The name AUBN is used interchangeably for the bank holding company and the bank.
Business description
A strong but weakening local bank: According to the FDIC, AUBN concentrates 21% of the deposits in the Auburn-Opelika MSA, where state banks do much better than nationally chartered ones, as below.
Unfortunately, the same database reveals that between 2000 and 2015, the bank held 30% of the region's deposits. The company's market share fell ten percentage points in less than a decade.
This indicates that competition is eroding the company's moat in the region. If continued, this could affect AUBN's cost of funds or services (more on this below).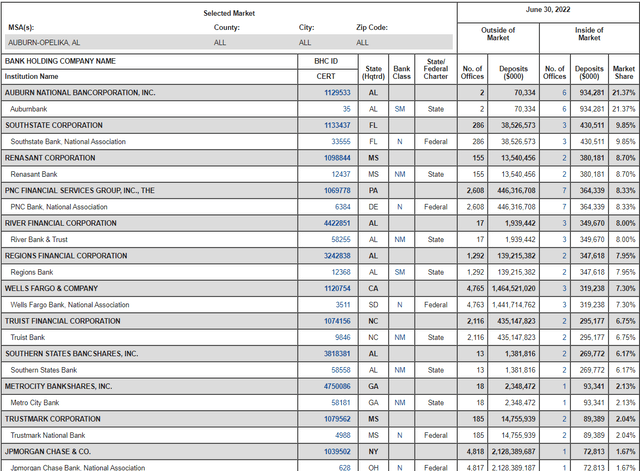 Economically strong area: The Auburn-Opelika MSA region shows several indications of an economy that should not generate problems for the bank. Its unemployment rate is below the national average (first chart below). The area has been growing its working population faster than the national average (second chart).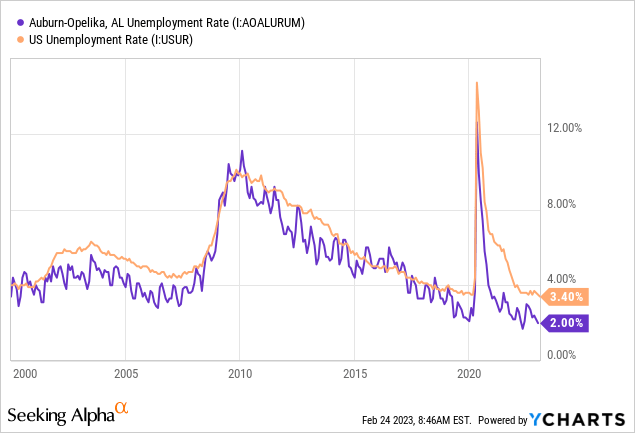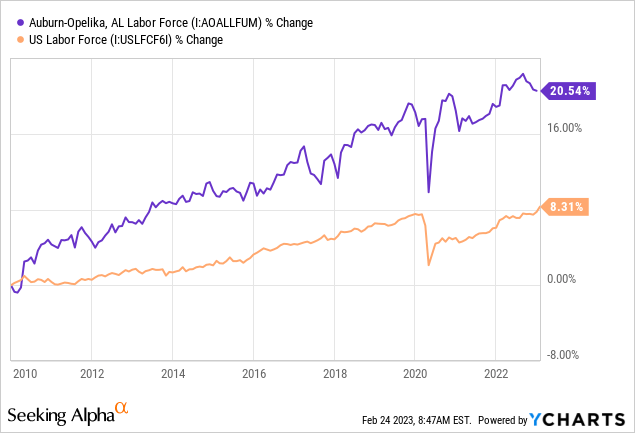 The area is considerably poorer than the national average. According to DataUSA, the area's median household income is 20% lower than the national average, and the poverty rate is seven percentage points higher. This indicates a less dynamic but also more labor-competitive economy. In the context of reshoring, it could become attractive.
Mostly deposit financed and growing: 90% of the bank's liabilities are deposits, which have been growing for the past decade.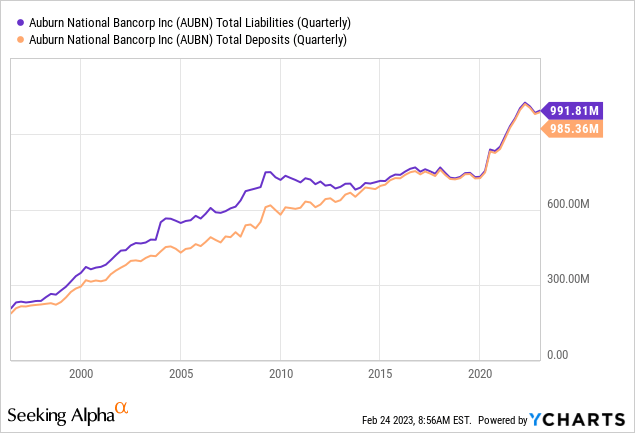 Not-so-great expense management: The company's efficiency ratio (net operating expenses over net interest income) shows an ascending trend, which is undesirable. The bank has to dedicate a higher portion of its interest income to its operating expenses.
This situation could be tied to higher competition in the bank's region. If competing banks offer better offices, more convenient services, or more customer service employees, customers may move to them. Therefore, the bank has to increase the cost of servicing its client. It could also be tied to a lack of control over expenses. Both situations are negative and will continue unless proven otherwise.
However, the bank is in positive territory, as an efficiency ratio below 0.5 is considered good. What concerns me is not the level of the efficiency ratio but rather its upward trend.
The bank's bottom line is more operationally leveraged as the efficiency ratio increases. That is, small movements in net interest income generate big movements in profits. This increases earnings volatility, which makes projecting earnings into the future more difficult. In general, I do not like operational leverage unless the company can unequivocally benefit from it.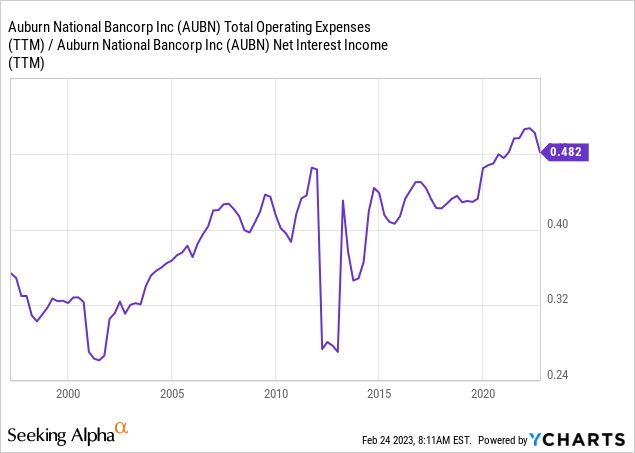 Profitability follows assets: Compared to the growth in assets, profitability follows a similar path, albeit punctuated by more volatility. This is not great because a bank should benefit from its scale by diluting its fixed expenses (mostly offices and employees) on a wider asset base. Generally we prefer banks that show earnings growing above assets.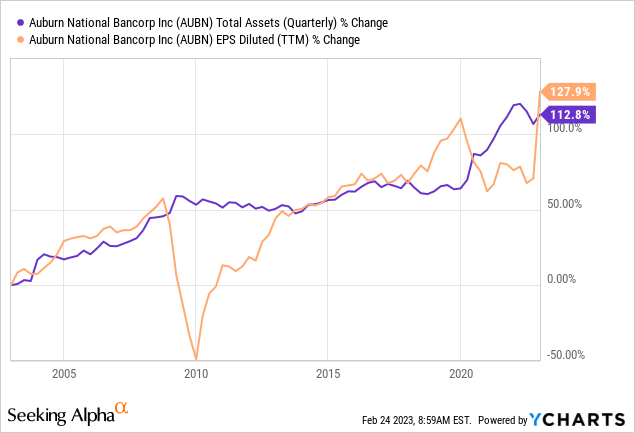 Large owner interests: Although the company's executives and board own a negligible portion of the company, two holdings represent 20% and 10%, respectively, of total shares, according to the company's proxy statement.
This is positive because large shareholders have more agency than a diluted pool of smaller shareholders. For example, these large shareholders would have an easier time promoting changes in the company's Board or executive group if the bank's performance was considered subpar.
Investment book and capital allocation
Great Financial Crisis: The bank's performance during the GFC was neither stellar nor terrible. Net charge-offs between FY08 and FY13 amounted to $15 million, or 4% of the loan book in 2007. In no year did charge-offs stand above provisions before 2007, but these had to be replenished each year, adding to the company's cost of credit.
On a more positive note, the company had reduced its exposure to loans in the years leading to the crisis. Although not shown below, the difference was covered by securities, mostly agency MBS, that held their value much better.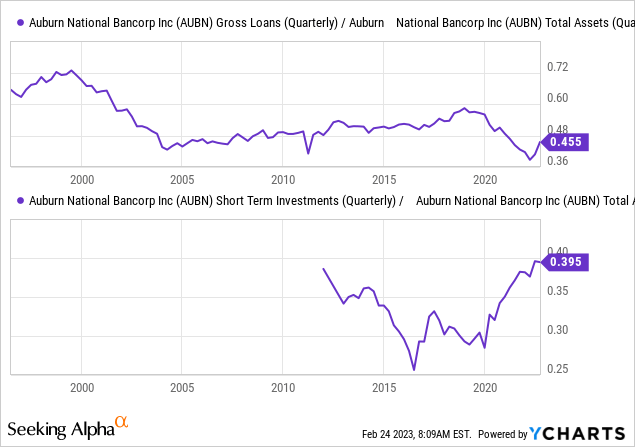 Growing the balance sheet pro-cyclically: More recently, AUBN expanded its balance sheet more aggressively in 2020, growing deposits much faster than before (see deposits chart in the above section).
This had two unfortunate consequences. First, to attract funds quickly, the company substantially increased the rate paid for its deposits. This quickly eroded the company's net interest margin and profitability. Second, the company used those funds to invest in securities yielding very little. These securities carry heavy capital losses today.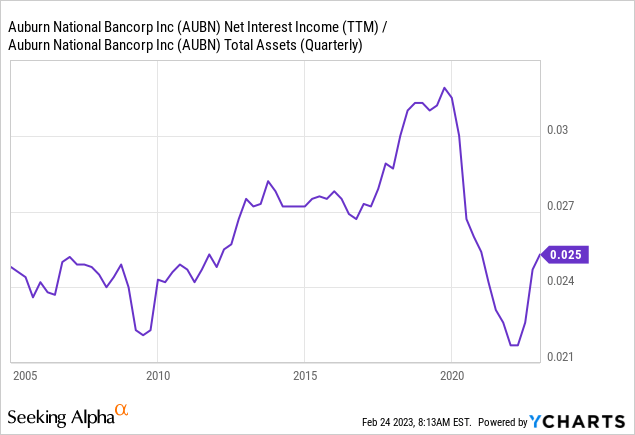 The securities book: Unfortunately, AUBN's securities book is composed mostly of agency MBS that yield 1.5% on average. Given that they are long-dated, these securities will drag on the company's profitability for years. If the company decides to sell them, it must realize a loss of at least $50 million, or 10% of the book.
Despite the benchmark rates not rising a lot (2 percentage points for treasuries between September 2021 and September 2022), AUBN's securities fell 10% because MBSs fell much more than the benchmark rates. The dynamics are explained in this article from PIMCO.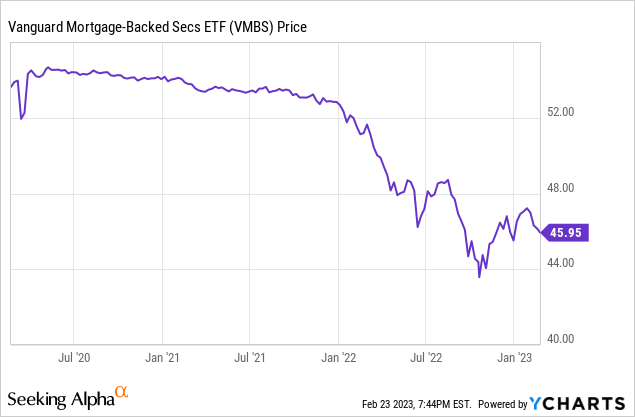 Fixed-rate, commercial real estate loan book: The company's loan book comprises mostly commercial real estate and fixed-rate loans. These are 60% and 90% of the loan book, respectively, as of FY21.
Although there are no recent indications of problems with these loans, they will yield fixed rates of around 4.5% for several years unless they are sold at a loss. Commercial real estate is the riskiest type of real estate loan, but the fact that the loans are fixed is a protection. True, they will not increase the company's interest income, but they will also not increase the borrower's interest burden, which implies lower defaults.
Valuation
Recent 4Q22 data shows us an all-time high on AUBN's FY22 profitability. The company reported a net income of $10 million, but I believe only $8 million comes from recurring operations. The reason is that the company disclosed $4.8 million in non-recurring income from the sale of a property and retention credits, plus a $1 million extra allowance.
Trading at a market cap of $84 million, the company offers a P/E ratio of 10.5x. This ratio is justified, given that the company does not necessarily command a premium on earnings. It has shown growth, but at the same rate as assets, with decreasing efficiencies. It has a dominant but declining position in its market. Finally, its management has not shown particular abilities to invest countercyclically.
Going forward, the main risk is the increase in deposit interest expenses. According to the FDIC, average term-deposit rates have multiplied by ten since the beginning of the year, and savings account rates have multiplied by six.
AUBN's time deposits make up a quarter of its deposits, and the bank has not updated those rates. The dynamic of time deposit rates has a lot to do with how aggressively the bank tries to increase or maintain those deposits. If AUBN wants to grow its balance sheet as it did in 2020, it has to increase the rate it pays on deposits. It may also need to increase the rate if it wants to avoid those deposits going somewhere else. In that case, profitability will suffer, particularly with the company's low-yielding securities book.
On the other hand, if the bank wants to let deposits go, it has to sell securities at a loss. Both options are not great. Regular deposits are much more sticky, particularly in AUBN's market, so these should not be problematic.
Therefore, AUBN will not have control over its profitability levels. Suppose time depositors want to move their deposits elsewhere. In that case, the company only has two options: redeem the deposits by realizing a securities loss, or offer them a higher interest on their deposits. The only scenario where AUBN maintains its profitability is where time depositors do not ask for higher rates and do not move their deposits. That is a low-probability scenario.
Conclusion
In terms of quality, AUBN has some positives and some negatives that offset each other. Particularly concerning on the negative front is that the bank did not allocate capital countercyclically. If the bank had not paid up for deposits in 2020, only to invest them in super-low yielding securities, its current situation would be very different.
However, the current valuation implies a relatively low multiple that is not very demanding regarding company quality. The problem with the multiple is that AUBN will face difficulties maintaining its current profitability. In particular, the bank will suffer from higher liability costs against a relatively fixed loan and securities book that is not yielding that much (particularly on the securities side).
Therefore, on a prospective basis, AUBN's multiple is higher, which, in my opinion, is not justified by company quality. Conversely, the company offers a low multiple today, but this multiple does not provide any margin of safety against a very possible decrease in earnings.
For those reasons, I believe AUBN stock is currently not an opportunity.
Editor's Note: This article covers one or more microcap stocks. Please be aware of the risks associated with these stocks.